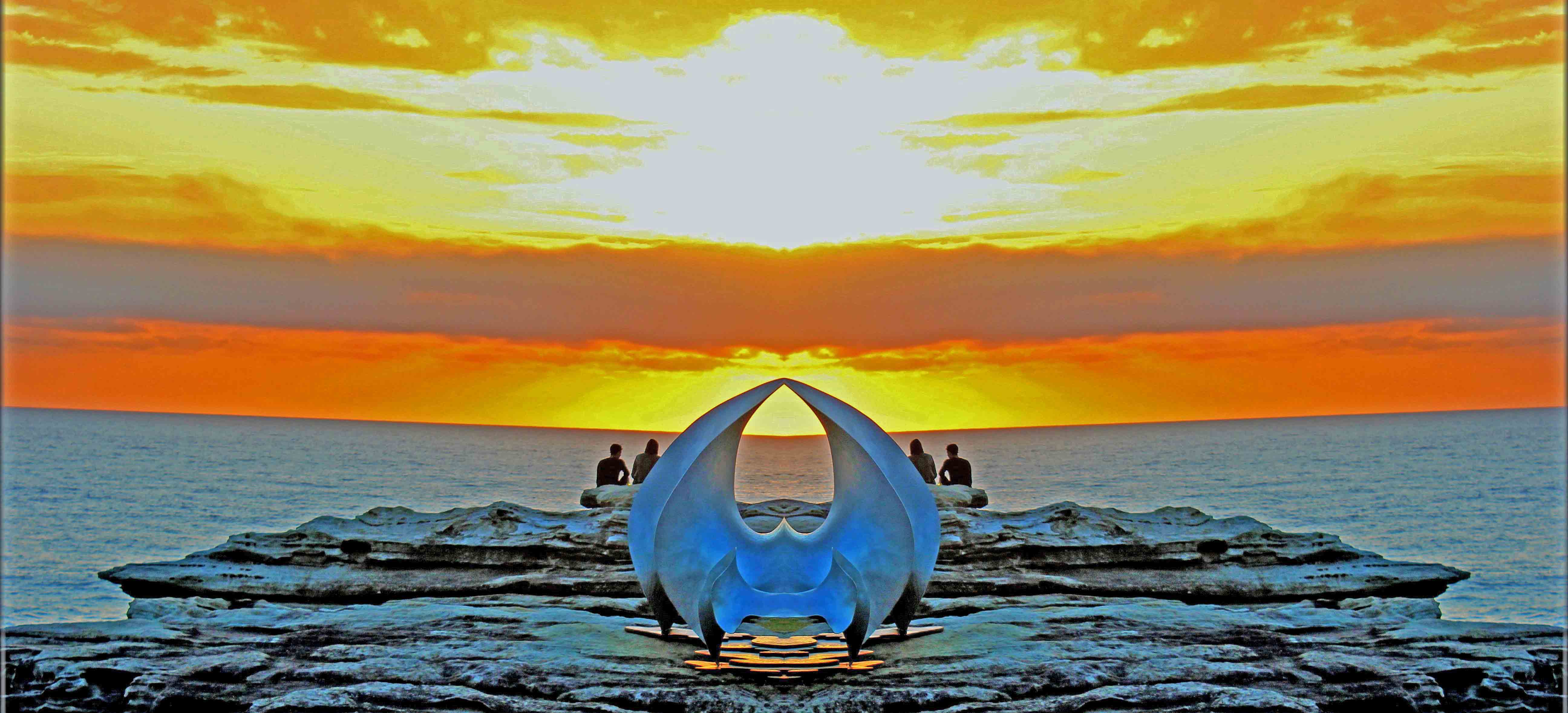 Vitamin B12 Deficiency
Vitamin B

12

Deficiency and use of PPIs

Proton pump inhibitors (PPIs) are amongst the most widely prescribed drugs in the world. One of their prime indications is for the treatment of Gastro-esophageal Reflux disease (GERD), which affects 10-20% of the population, and as such presents a huge market for the use of these drugs (Mospan etal, 2015). The use of these drugs though comes with some serious side effects including increased rates of vitamin B12 deficiency, iron deficiency (Qorraj-Bytyqi etal, 2018; Hansen etal, 2017; Purchiaroni etal, 2015; Lam etal, 2013; Wilhelm etal, 2013) and magnesium deficiency and has also been associated with a higher risk of bone fracture and dementia (Wilhelm etal, 2013; van Herwaarden etal, 2016). Even short term use of PPIs has been shown to result in "clinically significant impairment in visual memory, attention, executive function, and working and planning function (Akter etal, 2015).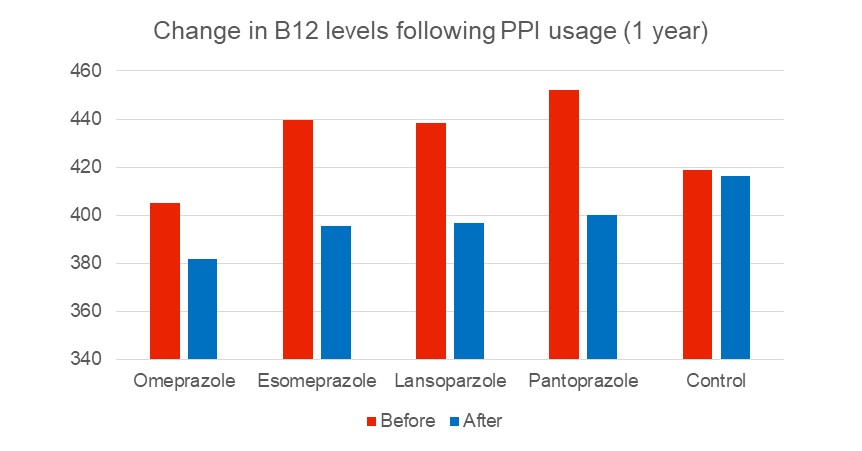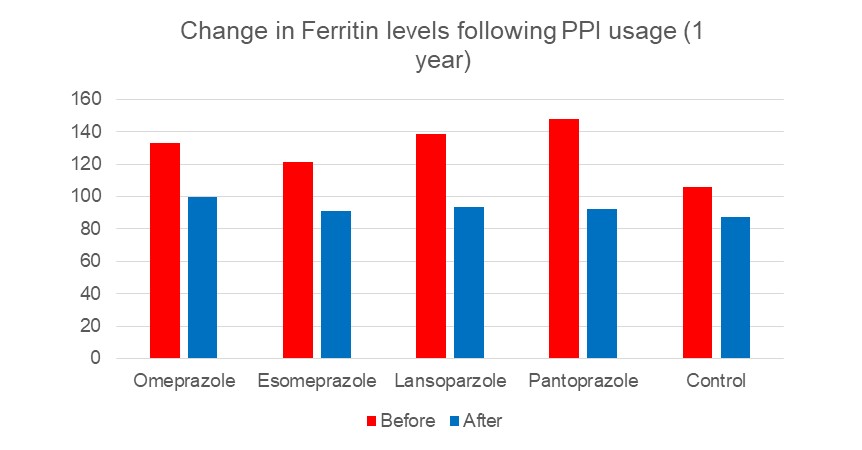 Data from Qorraj-Bytyqi etal, 2018
Recommendations
Despite countless reviews that cite that long term use of PPIs leads to vitamin B12 deficiency, iron deficiency, dementia, (Schubert, 2017; Maes etal, 2017; Singh etal, 2018; Savarino etal, 2018, Miller 2018; Nehra etal, 2017; De Bruyne and Ito, 2018; Linder etal, 2017; van Herwaarden etal, 2016; Oh, 2011) as well as electrolyte imbalance, gastric tumors, enteric infections,IWC Replica Watches spontaneous bacterial peritonitis, pneumonia, ischemic heart attacks, and thrombocytopenia (Muherjee etal, 2018). Despite this, a number of Gastroenterologists (Freedberg etal, 2017; Savarino etal, 2016) appear to have disregarded these findings and have stated users should not routinely raise their intake of calcium, vitamin B12, or magnesium beyond the Recommended Dietary Allowance (RDA)." Further "Long-term users should not routinely screen or monitor bone mineral density, serum creatinine, magnesium, or vitamin B12. (Freedberg etal, 2017). It is curious that this dismissal of the long term effects of PPIs on vitamin B12, iron, magnesium and bone mineral density comes primarily from Gastroenterologists, the very people who would be prescribing the drugs! It is also curious that they are suggesting that people do not monitor their levels, a practice that would eventually bury the association between PPI use and deficiency in B12, iron and magnesium, potentially to the detriment of the patients prescribed the drugs. One wonders if perhaps the $13 billion per annum sales of PPIs could perhaps be behind such comments. A recent study found that people prescribed PPIs had a 25% higher risk of death over an 8 year period of study, with the risk increasing the longer the exposure (Xie etal, 2017).
Further Information on use of PPIs and
Vitamin B

12

Deficiency

Mospan CM1. What are the precautions with proton pump inhibitor use for reflux disease Omega Replica JAAPA. 2015 Dec;28(12):23-6. doi: 10.1097/01.JAA.0000473372.47749.16.

Freedberg DE1, Kim LS2, Yang YX3. The Risks and Benefits of Long-term Use of Proton Pump Inhibitors: Expert Review and Best Practice Advice From the American Gastroenterological Association. Gastroenterology. 2017 Mar;152(4):706-715. doi: 10.1053/j.gastro.2017.01.031.

Schubert ML1. Physiologic, pathophysiologic, and pharmacologic regulation of gastric acid secretion. Curr Opin Gastroenterol. 2017 Nov;33(6):430-438. doi: 10.1097/MOG.0000000000000392.

Maes ML1, Fixen DR1, Linnebur SA2. Adverse effects of proton-pump inhibitor use in older adults: a review of the evidence. Ther Adv Drug Saf. 2017 Sep;8(9):273-297. doi: 10.1177/2042098617715381. Epub 2017 Jun 29.

Singh A1, Cresci GA1,2,3, Kirby DF1. Proton Pump Inhibitors: Risks and Rewards and Emerging Consequences to the Gut Microbiome. Nutr Clin Pract. 2018 Aug 2. doi: 10.1002/ncp.10181.

Savarino E1, Marabotto E2, Zentilin P2, Furnari M2, Bodini G2, Pellegatta G2, Lorenzon G1, Della Coletta M1, Ghisa M1, Coppo C2, Marinelli C1, Savarino V2. A safety review of proton pump inhibitors to treat acid-related digestive diseases. Expert Opin Drug Saf. 2018 Jul 23:1-10. doi: 10.1080/14740338.2018.1497155. [Epub ahead of print]

Miller JW1. Proton Pump Inhibitors, H2-Receptor Antagonists, Metformin, and Vitamin B-12 Deficiency: Clinical Implications. Adv Nutr. 2018 Jul 1;9(4):511S-518S. doi: 10.1093/advances/nmy023.

Mukherjee S1, Jana T1, Pan JJ2. Adverse Effects of Proton Pump Inhibitors on Platelet Count: A Case Report and Review of the Literature. Case Rep Gastrointest Med. 2018 Apr 30;2018:4294805. doi: 10.1155/2018/4294805. eCollection 2018.

Qorraj-Bytyqi H1, Hoxha R1, Sadiku S2, Bajraktari IH3, Sopjani M4, Tha?i K5, Tha?i S4, Bahtiri E1,6. Proton Pump Inhibitors Intake and Iron and Vitamin B12 Status: A Prospective Comparative Study with a Follow up of 12 Months. Open Access Maced J Med Sci. 2018 Mar 12;6(3):442-446. doi: 10.3889/oamjms.2018.142. eCollection 2018 Mar 15.

Nehra AK1, Alexander JA2, Loftus CG2, Nehra V3. Proton Pump Inhibitors: Review of Emerging Concerns. Mayo Clin Proc. 2018 Feb;93(2):240-246. doi: 10.1016/j.mayocp.2017.10.022.

De Bruyne P1, Ito S2,3. Toxicity of long-term use of proton pump inhibitors in children. Arch Dis Child. 2018 Jan;103(1):78-82. doi: 10.1136/archdischild-2017-314026.

Hansen CS1, Jensen JS2, Ridderstr?le M3, Vistisen D4, J?rgensen ME4, Fleischer J5. Vitamin B12 deficiency is associated with cardiovascular autonomic neuropathy in patients with type 2 diabetes. J Diabetes Complications. 2017 Jan;31(1):202-208. doi: 10.1016/j.jdiacomp.2016.08.025. Epub 2016 Aug 30.

van Herwaarden N1, Bos JM, Veldman B, Kramers C. [Proton pump inhibitors: not as safe as they seem]. Ned Tijdschr Geneeskd. 2016;160:D487.

Savarino V1, Dulbecco P2, Savarino E3. Are proton pump inhibitors really so dangerous? Dig Liver Dis. 2016 Aug;48(8):851-9. doi: 10.1016/j.dld.2016.05.018. Epub 2016 May 30.

Akter S1, Hassan MR2, Shahriar M3, Akter N4, Abbas MG5, Bhuiyan MA6. Cognitive impact after short-term exposure to different proton pump inhibitors: assessment using CANTAB software. Alzheimers Res Ther. 2015 Dec 27;7:79. doi: 10.1186/s13195-015-0164-8.

Purchiaroni F1, Galli G, Annibale B. Metformin plus proton pump inhibitors therapy: the cobalamin deficiency challenge. Eur Rev Med Pharmacol Sci. 2015 Jul;19(13):2501-2.

Lam JR1, Schneider JL, Zhao W, Corley DA. Proton pump inhibitor and histamine 2 receptor antagonist use and vitamin B12 deficiency. JAMA. 2013 Dec 11;310(22):2435-42. doi: 10.1001/jama.2013.280490.

Wilhelm SM1, Rjater RG, Kale-Pradhan PB. Perils and pitfalls of long-term effects of proton pump inhibitors. Expert Rev Clin Pharmacol. 2013 Jul;6(4):443-51. doi: 10.1586/17512433.2013.811206.

Oh S1. Proton pump inhibitors--uncommon adverse effects. Aust Fam Physician. 2011 Sep;40(9):705-8.

Xie etal, https://bmjopen.bmj.com/content/7/6/e015735

time.com/4845332/heartburn-drugs-proton-pump-inhibitor/
---
---
Copyright ? 2018 vitaminb12deficiency.info. All Rights Reserved.
The statements on this site compose a compendium of generally recognized signs of vitamin B12 deficiency, and problems that can then ensue They also are formulated from a summary of relevant scientific publications. In addition they may contain some forward looking statements of a general nature.
Reproduction in whole or in part in any form or medium without express written permission is prohibited